Introducing Anastasiia Suprunenko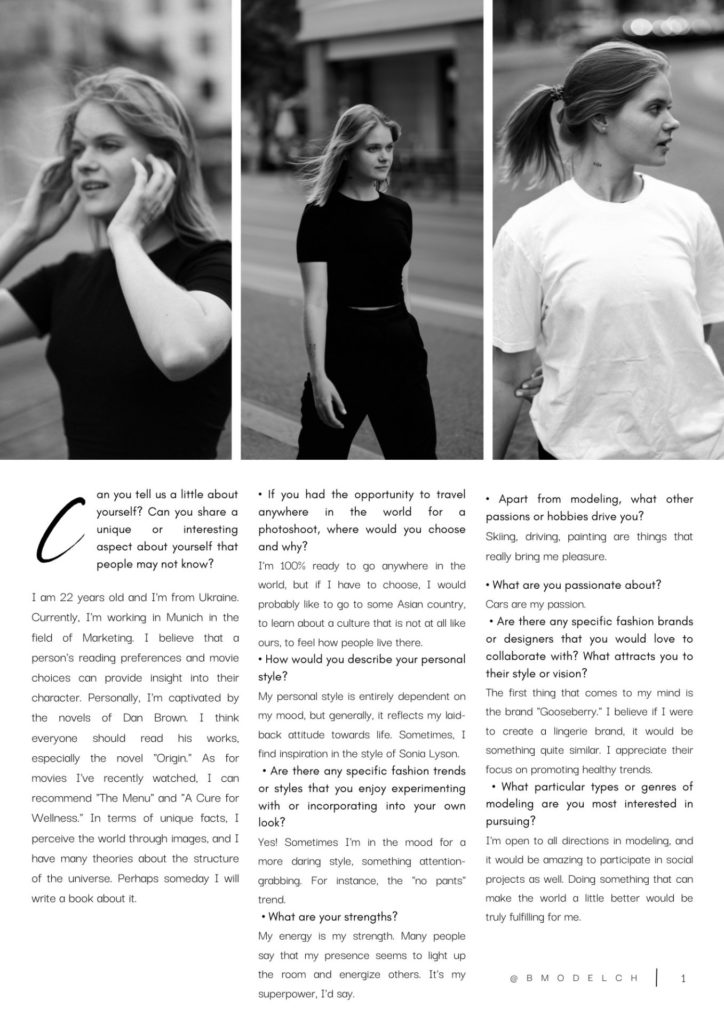 Can you tell us a little about yourself? Can you share a unique or interesting aspect about yourself that people may not know?
I am 22 years old and I'm from Ukraine. Currently, I'm working in Munich in the field of Marketing. I believe that a person's reading preferences and movie choices can provide insight into their character. Personally, I'm captivated by the novels of Dan Brown. I think everyone should read his works, especially the novel "Origin." As for movies I've recently watched, I can recommend "The Menu" and "A Cure for Wellness." In terms of unique facts, I perceive the world through images, and I have many theories about the structure of the universe. Perhaps someday I will write a book about it.
Apart from modeling, what other passions or hobbies drive you?
Skiing, driving, and painting are things that really bring me pleasure.
If you had the opportunity to travel anywhere in the world for a photoshoot, where would you choose and why?
I'm 100% ready to go anywhere in the world, but if I have to choose, I would probably like to go to some Asian country, to learn about a culture that is not at all like ours, to feel how people live there.
How would you describe your personal style? Do you have any fashion icons or inspirations?
My personal style is entirely dependent on my mood, but generally, it reflects my laid-back attitude towards life. Sometimes, I find inspiration in the style of Sonia Lyson.
Are there any specific fashion trends or styles that you enjoy experimenting with or incorporating into your own look?
Yes! Sometimes I'm in the mood for a more daring style, something attention-grabbing. For instance, the "no pants" trend.
What is your greatest weakness and how have you tried to overcome it?
My biggest weakness is probably anxiety. Sometimes it just comes out of nowhere….. Meditation and yoga help me cope with it.
My energy is my strength. Many people say that my presence seems to light up the room and energize others. It's my superpower, I'd say.
What are you passionate about?
Cars are my passion.
What aspect of the modeling industry are you most passionate about?
The aspects of modeling that attract me the most are the opportunity to become well-known, to travel, to meet new people, and to improve myself every day.
Could you share your career goals and aspirations for the next five years, both within and beyond the modeling industry?
Five-year goals: I would like to have my own art exhibition in Munich, I would like my pictures to be on big boards in different big cities around the world, possibly head up the marketing department at the firm where I work now, and of course to be happy.
What inspired you to pursue a career in modeling? Was there a specific moment or experience that influenced your decision?
The stars have aligned! Throughout, a recurring theme in my thoughts has been the desire to develop in this direction. Apparently, the right moment has come now!
Are there any specific fashion brands or designers that you would love to collaborate with? What attracts you to their style or vision?
The first thing that comes to my mind is the brand "Gooseberry." I believe if I were to create a lingerie brand, it would be something quite similar. I appreciate their focus on promoting healthy trends.
How have you collaborated with photographers and creative directors in the past?
On the flip side, I've been heavily involved in organizing photoshoots and events as part of my job. This has given me the opportunity to collaborate closely with photographers and creative directors, contributing to successful outcomes and enhancing my skills in working alongside them.
How do you typically prepare yourself mentally and physically for a new photoshoot or runway show?
The key factors are a positive mood and self-confidence. A few days ahead, I plan a spa day to prepare. On the actual shoot day, I begin my morning with personal rituals, my favorite music, a healthy breakfast, and a jog.
What particular types or genres of modeling are you most interested in pursuing?
I'm open to all directions in modeling, and it would be amazing to participate in social projects as well. Doing something that can make the world a little better would be truly fulfilling for me.
Are there any types of modeling you wish to avoid?
I would like to avoid projects that promote unhealthy trends or other aspects that could harm both people and the environment.
In what ways do you express your creativity and individuality within the modeling industry? Are there any unique ideas or concepts you would like to explore in your work?
As mentioned earlier, I see this world through images, like a canvas. It would be fascinating to be part of a project that is somehow connected to art.
Who is your favorite model and why? How has their work influenced your own modeling journey?
I don't have a favorite one.
Do you have a favorite fashion designer or brand that resonates with your personal style or aesthetic? What draws you to their designs and philosophy?
Currently, I can't pinpoint a brand or designer that resonates with my personal style at a 10/10 level, but perhaps that connection will emerge as I go along.