Introducing Alena Pedchenko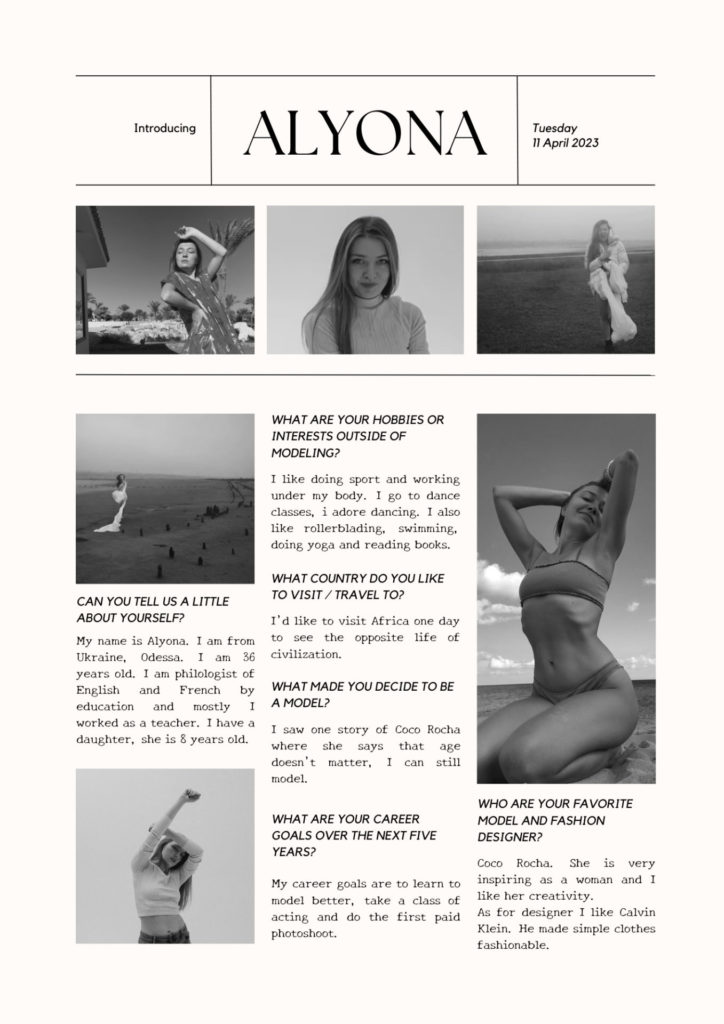 Can you tell us a little about yourself?
My name is Alyona. I am from Ukraine, Odesa. I am 36 years old. I am a philologist of English and French by education and mostly I worked as a teacher. I have a daughter, she is 8 years old.
What are your hobbies or interests outside of modeling?
I like doing sports and working under my body. I go to dance classes, I adore dancing. I also like rollerblading, swimming, doing yoga, and reading books.
What country do you like to visit/travel to?
I'd like to visit Africa one day to see the opposite life of civilization.
How would you prepare for a new photoshoot?
First of all, I would do a workout to prepare my body. Then an orderly make up and shipshape clothing. Prepare a list of music that would help me to get into a character.
What is your greatest weakness and how have you tried to overcome it? What are your strengths?
My greatest weakness is my daughter who needs my care and at the same time, she is my strength.
What are you passionate about?
I am passionate about nature I think.
What are your career goals over the next five years?
My career goals are to learn to model better, take a class in acting, and do my first paid photoshoot.
What made you decide to be a model?
I saw one story of Coco Rocha where she says that age doesn't matter, I can still model.
What brands would you like to work with?
Dior, Adidas, Nike, Calvin Klein, Zara, Mango
How have you collaborated with photographers and creative directors in the past?
Just listened to what they told me and did my best.
Who is your favorite model and why?
Coco Rocha. She is very inspiring as a woman first of all and I like her creativity.
Who is your favorite fashion designer?
Calvin Klein. He made simple clothes fashionable. I like this brand.