Spring/Summer Fashion Trends
As the temperatures rise and flowers bloom, it's time to revamp your wardrobe with the latest spring/summer fashion trends. From vibrant colors to breezy fabrics, this season offers a plethora of stylish options to help you look and feel your best. In this article, we will explore the must-have fashion trends, provide inspiration for fashionable outfits, and guide you on how to rock the latest looks with confidence.
I. Embrace the Spring/Summer Fashion Vibes:
Spring/Summer Fashion: Unveiling the Season's Hottest Trends Get ready to dive into the world of spring/summer fashion as we introduce the key trends dominating the runway and fashion scene. This season, expect to see a burst of vibrant colors, including pastels, bold hues, and earthy tones. As for patterns, floral prints, gingham checks, and tie-dye are making a comeback. Silhouette-wise, flowy maxi dresses, relaxed wide-leg pants, and cropped tops are all the rage. Stay updated with the latest trends to infuse freshness and excitement into your wardrobe.
Building Your Seasonal Wardrobe: Must-Have Pieces and Stylish Ensembles To create stylish outfits for the spring/summer season, it's essential to have a well-curated seasonal wardrobe. Invest in versatile pieces like lightweight blouses, breezy sundresses, and tailored shorts. These items can be mixed and matched to create various ensembles suitable for different occasions. Pair a pastel-colored blouse with high-waisted jeans for a casual day out, or opt for a flowy maxi dress with strappy sandals for an effortlessly chic look. Experiment with different combinations to find your unique style.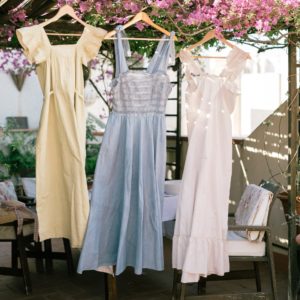 II. Showcasing the Latest Fashion Looks:
Runway Trends: Adapting High Fashion to Real Life While runway fashion can sometimes seem extravagant, it serves as a source of inspiration for creating wearable looks. Take cues from the runway trends and adapt them to suit your personal style and everyday life. For instance, if the trend is oversized blazers, opt for a slightly tailored version that still exudes a fashionable vibe. Mix high-fashion elements with classic pieces to strike the perfect balance between trendy and timeless.
Spring/Summer Colors: Embrace the Vibrancy of the Season One of the highlights of the spring/summer season is the vibrant color palette that emerges. Embrace the spirit of the season by incorporating these colors into your outfits. Pastel shades like lavender, mint green, and baby blue bring a soft and romantic touch, while bold and bright hues like fiery red and electric yellow make a statement. Experiment with color blocking or pair bold colors with neutrals for a harmonious look. Let the colors of the season reflect your mood and enhance your overall style.
III. Must-Have Fashion Accessories:
Elevating Your Outfits: The Power of Seasonal Accessories Accessories are the perfect finishing touch to elevate your spring/summer outfits. Experiment with statement earrings, straw hats, colorful scarves, and oversized sunglasses to add personality and flair to your look. These accessories not only enhance your ensemble but also provide practicality and sun protection. Don't be afraid to mix and match accessories to create eye-catching combinations that reflect your unique style.
Fashion Forward Looks: Expressing Your Personal Style Fashion is an opportunity to express your individuality and showcase your personal style. As you embrace the latest trends and incorporate seasonal pieces into your wardrobe, don't forget to stay true to yourself. Experiment with different looks and find ways to infuse your personality into each outfit. Whether it's through bold accessories, unique layering, or unexpected combinations, let your fashion choices be a reflection of your authentic self.
With the arrival of spring and summer, it's time to refresh your wardrobe and embrace the latest fashion trends. By incorporating the season's must-have pieces, experimenting with stylish ensembles, and adding the perfect accessories, you can create fashion-forward looks that are both on-trend and uniquely you. Let the vibrant colors, breezy fabrics, and fashionable silhouettes inspire your style choices this season. Rock your outfits with confidence and flair.