Introducing Polina Tertsyhna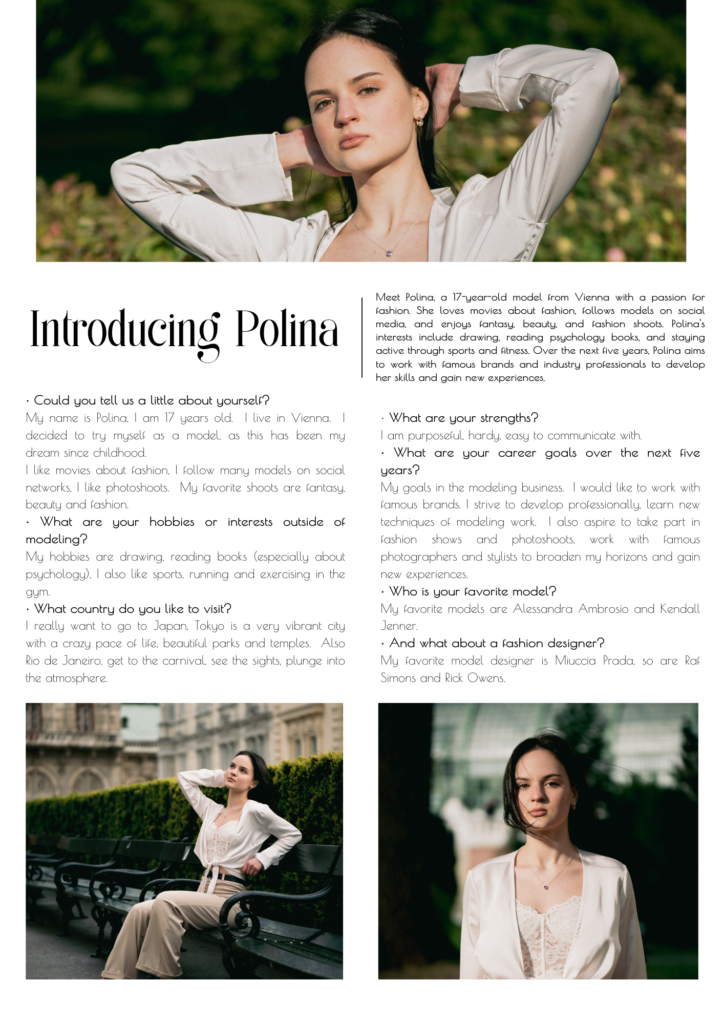 Could you tell us a little about yourself?
My name is Polina, I am 17 years old. I live in Vienna. I decided to try myself as a model, as this has been my dream since childhood. I like movies about fashion, I follow many models on social networks, and I like photoshoots. My favorite shoots are fantasy, beauty, and fashion.
 What are your hobbies or interests outside of modeling?
My hobbies are drawing, and reading books (especially about psychology), I also like sports, running, and exercising in the gym.
 What country do you like to visit?
I really want to go to Japan, Tokyo is a very vibrant city with a crazy pace of life, beautiful parks, and temples. Also, in Rio de Janeiro, get to the carnival, see the sights, and plunge into the atmosphere.
I am purposeful, hardy, and easy to communicate with.
What are your career goals over the next five years?
My goals in the modeling business. I would like to work with famous brands. I strive to develop professionally and learn new techniques of modeling work. I also aspire to take part in fashion shows and photoshoots and work with famous photographers and stylists to broaden my horizons and gain new experiences.
Who is your favorite model?
My favorite models are Alessandra Ambrosio and Kendall Jenner.
 And what about a fashion designer?
My favorite model designer is Miuccia Prada, and so are Raf Simons and Rick Owens.