Introducing Julia Reshetniak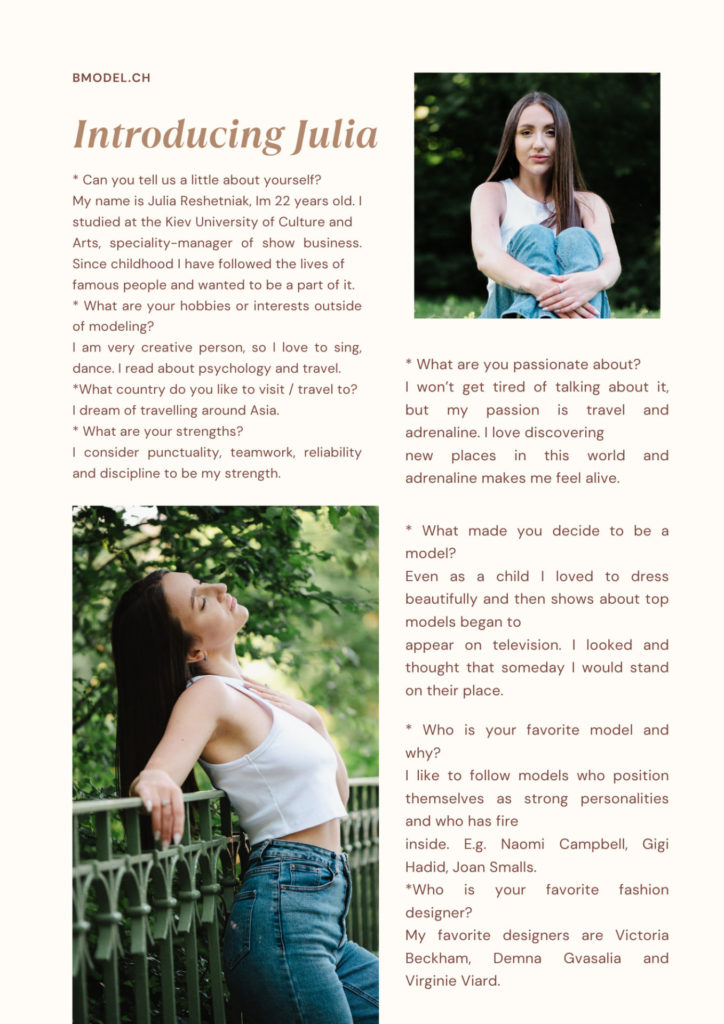 Can you tell us a little about yourself?
My name is Julia Reshetniak, Im 22 years old. I studied at the Kyiv University of Culture and
Arts, speciality-manager of show business. Since childhood, I have followed the lives of
famous people and wanted to be a part of it.
 What are your hobbies or interests outside of modeling?
I am a very creative person, so I love to sing, and dance. I read about psychology and travel.
What country do you like to visit/travel to?
I dream of traveling around Asia.
What are you passionate about?
I won't get tired of talking about it, but my passion is travel and adrenaline. I love discovering
new places in this world and adrenaline makes me feel alive.
What made you decide to be a model?
Even as a child I loved to dress beautifully and then shows about top models began to
appear on television. I looked and thought that someday I would stand in their place.
 Would you consider yourself a creative individual?
I consider myself a creative person, I don't like ordinary things and as I wrote earlier I'm
ready for experiments.
 Who is your favorite model and why?
I like to follow models who position themselves as strong personalities and who have a fire
inside. E.g. Naomi Campbell, Gigi Hadid, Joan Smalls.
Who is your favorite fashion designer?
My favorite designers are Victoria Beckham, Demna Gvasalia, and Virginie Viard.